"Fascinating... Brady gives us a tragic narrative of a life that became a chess game."
Publisher's Weekly (Starred Review)
"You don't have to know the game of chess to be mesmerized by the dizzying and ultimately dark journey of the world's most heralded player..."
Pat H. Broeske, New York Times bestselling author
FROM MARK MAGRUDER: NIGHTFIGHTER
"There are times a reviewer wishes he could come up with new words that express something more
than 'powerful,' 'balanced,' 'meticulously researched,' and the like, which
are so overworked... I cannot come up with better praise."
Don DeNevi, Leatherneck Magazine

"Solomon's Arrow is an epic tale that spans millennia and stretches across light-years. Like all compelling stories it comes deftly full circle in the end, hitting the mark dead-on all the way from the Epsilon Eridani star system! "
David Nabhan, author of The Pilots of Borealis

Now in a riveting new verse translation, Jason and the Argonauts (also known as the Argonautica) is the only surviving full account of Jason's voyage on the Argo in quest of the Golden Fleece aided by the sorceress princess Medea. Written in the third century B.C., this epic story of one of the most beloved heroes of Greek mythology, with its combination of the fantastical and the real, its engagement with traditions of science, astronomy and medicine, winged heroes, and a magical vessel that speaks, is truly without parallel in classical or contemporary Greek literature and is now available in an accessible and engaging translation.

It was the ultimate road trip: a year-long journey in a 27-foot-long fibre glass hotdog across the US and Europe. Rife with breakdowns, meaty puns, the burdens of instant celebrity and more Wiener Whistles than anyone could ever hope for, this book explores a year in the Oscar Mayer Weinermobile.

JOHANNA REISS: THE UPSTAIRS ROOM
I like THE UPSTAIRS ROOM by Johanna Reiss. She might have been Anne Frank's young - very young – friend. She was Dutch like her, Jewish like her, precocious like her. Her heroine Annie de Leeuw was 8 years old when, in 1940, the German tanks rolled into her town, Winterswijk. Decrees and injunctions followed. Jew hunts, racial measures, Jewish Star, deportations, general terror. Having found a haven with a kindly family of farmers, Annie goes through the war, bewildered. She accepts her condition, but not herself; the suffering, but not the punishment. She remains a rebel to the end, hopeful to the end.
This admirable account is as important in every aspect as the one by Anne Frank. Annie's ambivalent relationships with her father, her sister, the family that sheltered her, her discovery of concentration camp horror – we laugh with her and cry with her. With her we await D-Day and liberation, sharing her anxieties and her dreams. In the end, we are grateful to fate for having spared a child who can reminisce with neither hate nor bitterness but a kind of gentleness that leaves us with a lump in our throats.
-Elie Wiesel, The New York Times Book Review

J. WARD REGAN: GREAT BOOKS WRITTEN IN PRISON
Many of the world's most important figures were imprisoned for holding unpopular or unorthodox beliefs. They used their time behind bars to write books that shaped the course of history. This collection of new essays offers a wide-ranging examination of influential works written - in whole or in part - while their authors were in prison or exile. Each chapter explores a different text and contains a brief biography and summary of the circumstances surrounding the author's imprisonment, along with a critical examination of the writing and its legacy. Authors covered include Plato, Thomas Paine, Gandhi, Thoreau, Bertrand Russell, Hitler and Martin Luther King, Jr.
JOHANNA REISS: THE JOURNEY BACK
In many ways, this sequel to the much honored The Upstairs Room is even more affecting and immediate. It commands our attention in Reiss's lyrical, haunting story."
-Publishers Weekly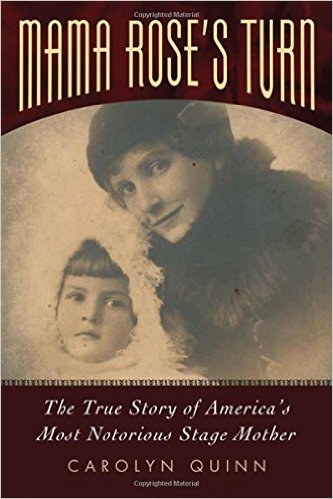 "Here she really is, boys! Here she truly is, world! Carolyn Quinn proves that the Rose whom we came to know in GYPSY was - and wasn't - accurately portrayed in the famous musical. Quinn has done meticulous work in finding newspaper clippings nearly a century old, poring over vintage photos, and interviewing descendants to put together a fascinating new look at June and Louise's mother. She may strike you as better than you'd assumed - or worse - but there's no doubt that MAMA ROSE'S TURN: THE TRUE STORY OF AMERICA'S MOST NOTORIOUS STAGE MOTHER delivers information that ranges from juicy to sobering in a completely remarkable biography." --PETER FILICHIA, author of Broadway Musicals: The Biggest Hit and the Biggest Flop of the Season, 1959-2009

In this sequel to the beloved Newbery Honor-winning book The Upstairs Room, Annie, a young Jewish girl, continues her dangerous journey in the aftermath of war. A true story.
Holland, 1945. World War II has finally ended. After almost three years of hiding from the Nazis, thirteen-year-old Annie has survived the war against all odds. But can she save her family from being torn apart when she returns to her war-ravaged town? In this fascinating autobiographical account, Johanna demonstrates the power of hope and the human spirit to survive despite the chaos, tragedy, and horror of war.

"A moving and perceptive account of the survivors of war and a fraught period of European History."
-Children's Book Center Newsletter

Paul Block virtually invented national newspaper advertising, as well as chain and syndicate publishing. He worked on, and shaped, the first Sunday newspaper supplement in the United States. He was the mastermind behind the magazine that enjoyed the largest circulation of any periodical in this country. His hundreds of signed, front-page editorials, from 1916 to 1941, on virtually every public issue of his day, were forceful commentaries that not only sold newspapers, but engineered and influenced legislation. The Publisher, the first biography of Paul Block, tells the story of his rise to the summit of American newspaper chains and chronicles his business and social relationship with William Randolph Hearst. The book reveals Block's influence not only on journalism, but also on the government and politics of his day.
"It took half a century after the premiere of the musical GYPSY for someone to tell the true life story of 'Mama Rose' Hovick, but thanks to Carolyn Quinn's detailed research and gift for readable prose, it was more than worth the wait. The ruthless stage mother of legend turns out to be far more human, understandable - and in some respects, even more believably terrifying - than the monstrous character that Merman, Russell, Lansbury, Daly, Peters, LuPone and so many others have played to acclaim. Fans of the musical will be fascinated by this book, but so will anyone interested in reading a damn good biography." --JOHN KENRICK, author of Musicals101.com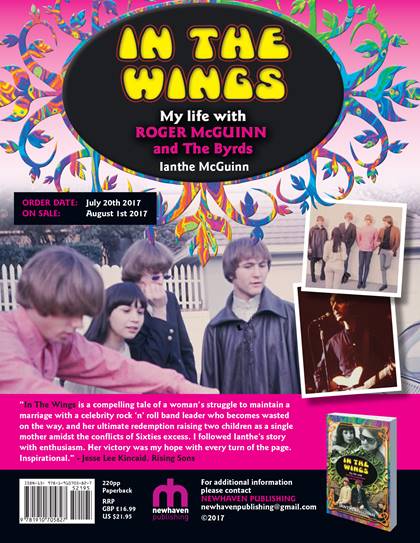 "I first met Ianthe when she had gone back to her birthname of Delores and married my manager Eddie Tickner. I was immediately impressed by this beautiful woman with her serene presence, and we have remained friends over the years. Underneath that calm exterior tho', lay a tensile strength revealed here as she bears witness to her heady days with the Byrds, the emerging L.A. rock scene of the 60s, to gender and reacial bias, and a tumultuous marriage to Roger McGuinn that would end with her raising her two sons alone. In the Wings is the story of a true survivor, told with a keen eye and ultimately, a compassionate heart". -Emmylou Harris
"A riveting tale so vivid you'll wonder if it was imagined. John Pielmeier has his A-game on."
-Steve Barry author of The Templar Legacy and the 14th Colony.
"A dazzling coming of age story of one boy's crazy hurtle into manhood. A glorious, alternate look at the forming of the notorious Captain Hook". -Nuala O'Connor, author of Miss Emily

When the cameras are of, he takes the stage!
With stories including Tim Allen's meltdown, an imrov class with Robin Williams and a close friendship with Allen Thicke, Perlow divulges everything from the good to the bad to the downright outrageous!
Available Now
In 1940 war-ravaged London, homeless children mysteriously begin to disappear from the abandoned subway station where they have forged an underground society
Dolores (Ianthe) was there at the birth of the Byrd's and experienced life as a wife during those triumphant and tempestuous years. Her story is more than a rock memoir, embracing a Mexican-American upbringing at a time of immense social change. Her reinvention as a working mother in the aftermath of the Sixties' party is a poignant story of perseverance and survival. - Johnny Rogan, author of Byrds: Requiem For The Timeless, Volumes 1 & 2
PRODUCTION RIGHTS AVAILABLE